A Clockwork Green, with some bronze thrown in.
It's like clockwork at this point. Now we're trying out some stuff that shouldn't work right now.
Mike was banging HUGE fish yesterday on a Reef Runner Rip Shad. Yeah...we know "Who throws a Reef Runner Rip Shad while fishing from shore? It's a trolling lure!" True. But, it dredged the bottom and activated a feeding frenzy.
Today, based on what Mike did yesterday, I went with a Salmo Bullhead for 30 minutes and scored big as well. I was once told that bass will start hitting crank baits at 47 degrees. We disagree with that rule. We've been doing this with ultra fast retrieves for almost 3 weeks now. We started 4 days after ice out. The water is STILL not 47 degrees.

Oh..oh...and what whackiness did Mike try today? A topwater Chug Bug..IN MARCH! In 45ish degree water!! And in doing so caught several fish the likes of which 99.9% of all anglers will never equal in a lifetime. And he did it all in 15 minutes.
NOTE*** Mike and I fish 7 different lakes. And that's key. Sometimes we fish the same place. Sometimes we split up and fish different lakes to try to figure out whats what. Today he fished at 3pm. I chose a different lake and fished at sundown for 30 minutes.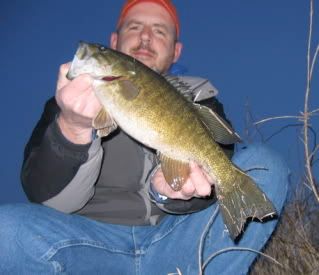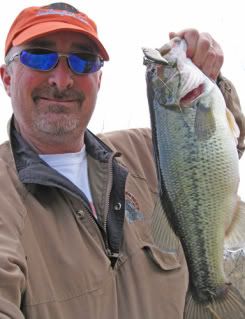 Editor's note**
We're gonna use this as an educational post to teach you how to further enhance your photography skills. Sometimes we don't quite get it right either...so don't feel bad.
That last fish that Mike is holding was ALOT BIGGER than it looks in the picture. If you notice he's holding the fish BEHIND his head while trying to get the entire beast in the photograph. No matter how hard he tried he couldn't get the entire fish in the photo frame. That's where a tripod is a valuable tool. Jamie uses a Gorillapod made by JOBY. Retails for about $15. We'll be buying a couple extras so that all of our crew members has one from now on.
But then again, if Mike was well prepared he wouldn't have caught a single fish...it always happens when you are missing something. :)


Tomorrow we are going to be writing an article that will surely anger you as an angler. It has to do with the stoppage of work on the Thorium Clean-up project on the DuPage river by Tronox ( formerly Kerr McGee). I'd stay tuned if I were you.