Farewell to the prince. 5-10-08
Customfish field reporter Pat Halko is going to be taking up permanent residence in Florida to further his education.
But before he left he HAD to catch one more smallmouth bass here in Illinois. Off we went to one of my favorite stretches of local river for the first wade of the year....and Pat's swan song.
Long live the prince! Because in one short wade he proved yet again that he's not only better than most anglers here, he's also luckier in that he gets to go to Florida where he'll live on the beach and fish for sharks,tarpon and snook.
God speed to you our good friend. And may all the success in the world come your way. You earned it!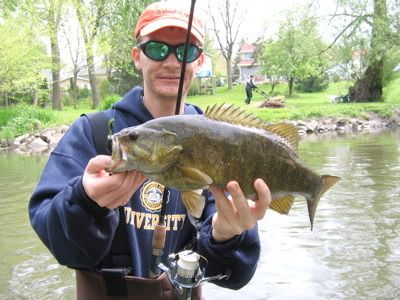 *************************************

Now, as with any monarchy we have to find someone else to fill the void left by Prince Halko....so everyone moves up one notch. Captain Jade now takes the position of local interim prince and Mark now enters the camp as court jester (Hey we all gotta start somewhere).
Their report from friday states that the Mississippi is STILL en fuego and these two clowns are sitting on the biggest untapped smallmouth goldmine in history. Mark schooled Jade 11-3 on friday at last count. And THAT, my friends, is the preverbial student beating the crap out of the teacher.
You taught Jester too much too soon, Jade.