HOLY SHI....
I've said this before and I'll say it again: We don't get impressed that easily. That's why we love our customers.We've seen some huge muskies. We have shown you a few. There's a bunch more that we can't show you due to our policy of secrecy unless the customer gives approval.
You guys give us some jobs that are truly awesome. Some of the biggest and the baddest fish in the water.
We're sending out such a job today.
Previously, the largest muskie we have done was a monster caught by Chad Cain. We did that fish twice because he caught it twice. I'm sure you muskie guys know the fish I'm talking about.

BUT...alas we have a NEW CHAMPION. The benchmark has been raised and you guys now have a new sheriff in town to try to beat!
The new holder of the crown for 'Largest Muskie Customfish Has Done' is Paul Schlagel, owner of Enduro Guide Service out of Clearwater, MN. Enduro specializes in hunting down monsters like this on Mille Lacs and a few other lakes in the area. I strongly urge you to check out his site. He's got a great forum on there along with some truly awesome reports! ( c'mon...hit those links. Paul just earned the Customfish Muskie Crown. He deserves it!)

So..without further adieu, I present to you Paul Schlagel of Enduro Guide Service. Your NEW CUSTOMFISH MUSKIE CHAMPION with a monster that measured 54 1/2" x 27 1/2"!
Truly awesome Paul!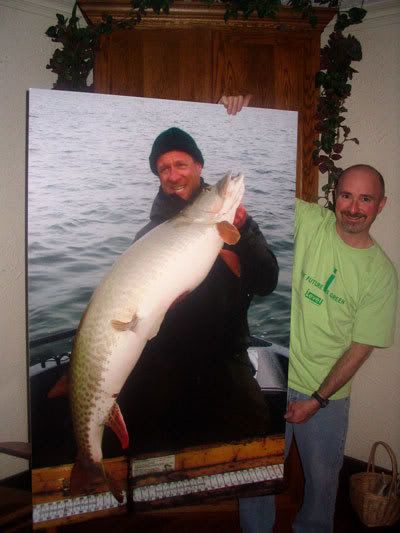 And to think, it only cost him $75 plus shipping to get all 54 1/2" up on a wall!
Someone remind us to end that insane sale soon...please.

We also did this print for an Enduro Guide Service client. This fish is also an absolute beast coming in at 54". Caught in july '07 while fishing with Paul, Josh nailed this monster on one of his own hot spots! Nice goin' Josh!



In other news:
Last night was the annual St. Pat's dinner at Casa Del La Libation (Mike's house). We had traditional Irish fare along with traditional Irish beverages.
Q: What do you get when a Slovak and an Italian try to be Irish for one day?
A: Nothing positive...I can tell ya that.
If someone could please remind us next not to drink Guinness, Killians Red, a nutty irishman, Jamison, and an irish car bomb all in the same evening...we'd appreciate it.
So from all of us at Customfish we wish you a Happy St. Pats week.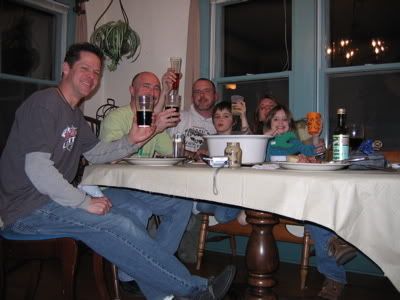 We leave you today with one of our favorites: "Fish On" by Primus. Enjoy.

Labels: big fish prints, customfish, Enduro guide, fish on live, fish print, guide on Mille Lacs, huge muskie, Mille Lacs, minnesota muskies, MN muskie, musky print, Paul Schlagel, primus, top muskie guides