2-1-06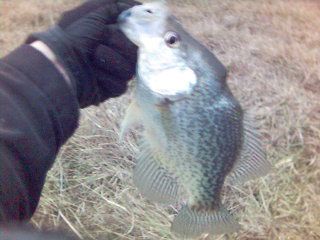 And the fun keeps on goin'!
Warm water coming in from just about anywhere is the key.
The set-up I used tonight was a Mr. Twister Exude 4" straight worm on a 1/16oz Slider head Jig. A couple small twitches and slow retrieves seem to be working very well.
Ken, Tom and I all connected with some huge fish this evening just before sundown. Tom got another huge laremouth ( about 19"), Ken got a 19.5" smallie and I got 2 16" smallies and my biggest crappie to date..an 18" beauty!
Get out and fish, folks!! The time for BIG fish is fast approaching!